President:  Chad Butts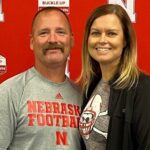 Chad Butts was born in Sidney, Nebraska and graduated from Lodgepole High School. He enlisted in the Marine Corps in 1992 as a Combat Engineer and served in units in Okinawa, Japan; Camp Pendleton, California; and Quantico, Virginia. He was also a Drill Instructor at Marine Corps Recruit Depot San Diego and Officer Candidate School in Quantico, Virginia. Chad served as the Assistant Marine Officer Instructor for the Naval ROTC Unit at the University of Nebraska while earning a Bachelor's Degree in Construction Management. He deployed in support of OPERATION IRAQI FREEDOM as a member of a Border Transition Team in 2008 and OPERATION ENDURING FREEDOM as a Company First Sergeant in 2009. He retired from the Marine Corps in early 2019 from his final post  as the Sergeant Major for the Third Marine Aircraft Group 39, Camp Pendleton, CA.  He has since embarked on a new career as a firefighter with the Orange County Fire Authority. Chad is married to Catherine  and they have two children, Cassie & CJ.
Vice President: Kevin Rush

Kevin is a two-time graduate from UNL receiving his Bachelors in Secondary Special Education (2013) and a Masters in Educational Administration (2015).  Kevin grew up in York, Nebraska.  He moved to San Diego in 2017 and works as a Community Liaison at San Diego State University.  Kevin enjoys playing tennis, watching sports, making coffee drinks, sitting down for wine or lunch with friends, and hanging out with his dog Lincoln, (yes named after Lincoln NE!).  Kevin became involved with the San Diego Husker Alumni chapter in 2018.
Secretary: Al Shanmugam

Al was born in Tamil Nadu, India, and lived there during his childhood years before moving to the American Midwest. His family moved to Ralston, Nebraska, where he quickly became a Husker fan while rooting for Tom Osborne and his early teams. Upon high school graduation from Ralston High, Al headed off to UNL to pursue a degree in Computer Science from the Engineering College. With CS degree in hand and bountiful energy, Al sprung off to Boise, Idaho to begin his high-tech career at Hewlett-Packard Company. Al did stints for HP in Boise, San Diego, and Barcelona before returning to sunny San Diego in 2000. During the early years of his career, Al returned to university life at Stanford to pick up a Master's degree in Computer Software Systems. Although he is also a fan of The Cardinal, it's Husker blood that runs through his veins. Al has been an active member of the San Diego Chapter of the University of Nebraska Alumni Association for over 25 years and has served on the Board of Directors for many years. Al is currently an Engineering Manager for General Atomics Aeronautical in Poway.  When he's not working or rooting for the Huskers, he spends time with his wife, two daughters, and two very active tabby cats.
Treasurer: James P. Woerner, Jr.                                                               

Jim, who is a native of Wilmington, Delaware, has been active in the San Diego Chapter of the Nebraska Alumni Association since the mid 1990's. He attended the University of Nebraska on a NROTC scholarship, graduating with a B.A. in Spanish in 1966. Following commissioning, he embarked on a 23 year naval career that included shore and afloat assignments in Medellín, Colombia where he attended the University of Antioquia as a Fulbright Scholar; Newport, RI; Vietnam; Columbia, SC; Charleston, SC; the Panama Canal Zone; San Diego, CA; Washington, DC; and Bogotá, Colombia. While in Columbia, SC he earned a M.A. in Spanish from the University of South Carolina. He is also a graduate of the Inter-American Defense College. Following retirement from the Navy in 1989, he returned to the San Diego area to begin a second career with the County of San Diego Health and Human Service Agency initially and later with the Sheriff's Department. Jim retired once more in 2008. He lives in Chula Vista with his wife, Celia, but is often on the road visiting adult children in Chicago, Tampa, and Whittier, CA as well as family members still residing in Delaware and North Carolina.
Board Members:
Sharon Bay

Sharon is the owner, publisher and editor-in-chief of San Diego Family Magazine. Her goal of providing the best community service product for families has contributed to the success of the magazine. She is recognized for her strong family support throughout San Diego County. Sharon graduated from UNL with a BA degree in Home Economics and Child Development while raising her two children. They and their spouses all graduated from UNL and live in San Diego. She has five grandchildren. She is proud to be from Nebraska, has a 'can do' attitude and doesn't give up.
Larry Bay

Larry Bay, husband of Sharon Bay. Semi-retired or; in other words; unemployed, over worked and unpaid. He has a master's degree in Electrical Engineering from the University of Nebraska plus a master's degree in Management Science . Worked for General Dynamics Electronics for many years until the end of the Cold War. Retirement tasks include; Helping Sharon with jobs on the periphery of San Diego Family Magazine, downtown office building management, growing a few fruits and tomatoes for summer use and flying a helicopter mostly around San Diego County.
Marissa Clow
Marissa is from Irvine California.  she wanted an out of state experience for college, a school that had a top ranked Interior Design Program and one that rallied around their sports teams.  She is a graduate of UNL, with a Bachelor of Science Degree in Interior Design from the College of Architecture.  After graduation she found a job that brought her to San Diego.  She specializes in interior planning and design for commercial office, medical projects and building re-imaging projects.  She loves traveling back to Lincoln for the college football experience.

Randy DeGeorge

Born in Omaha, Nebraska, a true Husker fan from the start and will always be. Out of high school he enlisted in the United States Coast Guard and served from April 1975 till April 1979. Returning to the Omaha area with his family he began a career with the Omaha Public Power District. Randy attended Bellevue College and graduated in 1985 with a degree in Business Administration. During his work career he joined the International Right of Way Association and held several committee and officer positions. He retired from OPPD after 33 years of service in 2012. Randy and wife Sally moved to Southern California in November of 2016 and became active members of the San Diego Huskers Chapter. They have 2 grown children and 4 grandchildren.
Ann Hou

Ann was born in Taipei, Taiwan and came to the United States to live in Northern California when she was 6 years old. She later moved to Nebraska when she was in the 7th grade and graduated from Papillion-LaVista High School. She attended UNL and graduated with a BA in European Studies and French and a BS in Biochemistry in 2001. Ann also got her MS at UNL in 2004 in Biological Sciences with emphasis in Molecular Microbiology. Ann arrived in San Diego in 2005 for her first job out of college.  Ann is currently a Clinical Trial Lead at Hologic.
Charlotte Perry

Charlotte Walter Perry was born and raised in North Platte, Nebraska. She is a graduate of the University of Nebraska, Lincoln, with a Bachelor of Science Degree in Education. She also earned a Master of Arts Degree in Library Science from the Denver University. She now volunteers at the preschool story telling at the public library and leads historical kids' tours for the Gaslamp Quarter Historical Foundation. Charlotte is member of the Historic "Gaslamp Players" which is a group that presents San Diego Gaslamp History in costume. She is very active in The Delta Kappa Gamma Society International, which is an organization for "Key" women educators. She has been president of Club Altura, San Diego Alumnae Panhellenic and is currently President of La Jolla Republican Women Federated. She is an active member of Daughters of the American Revolution and Past Regent. She serves as Co President of Light One Little Candle Foundation at the Moores Cancer Center. The Foundation gives books to cancer patients in treatment to read with the children in their lives. Every 4th of July Charlotte plays the accordion in Old town for the Cake Walk at the Family Celebration. She belongs to the Accordion Lovers Society and Old Town BOOTERS.
Sally Stovall

Sally, born in Omaha and having lived in Lincoln for most of her life, has Nebraska in her blood.  She has both an undergraduate and master's degree in Dietetics from the University of Nebraska-Lincoln's College of Home Economics.  You can find Sally most football Saturday's at the Duck Dive selling San Diego Husker t-shirts for the organization.  Sally and her husband Randy also enjoy participating in other San Diego Husker sponsored events, start of the season picnic and holiday party.
Jan Thoresen
Jan graduated from UNL in August 1959 and soon thereafter came to Chula Vista to begin a 41 year teaching career with the Chula Vista Elementary School District. She later earned a Master's Degree from USIU. Jan supports all alumni events and attends annual Foundation meetings in both Scottsdale, AZ and Palm Springs, CA. Being a loyal "Go Big Red" fan, she has followed the football team to many bowl games and often attended Homecoming in Lincoln. Locally she is active in a variety of organizations with major focus on Kids on the Block. She holds an active membership in the North Shores Division of CA Retired Teachers, La Jolla Chapter of DAR, and Delta Kappa Gamma honorary for professional women educators. In June of 2012 she proudly attended the centennial celebration of the founding of her sorority, Alpha Xi Delta, on the campus of UNL. She supports the Greek system locally and served as president of San Diego Alumni PanHellenic Association. Her newest adventure is membership in the Pt. Loma Garden Club.